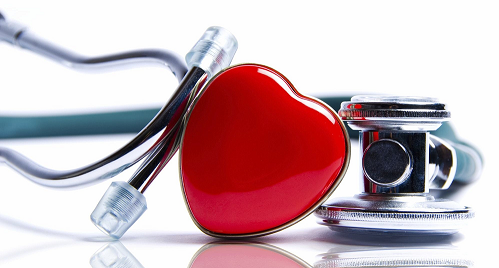 Part 1: https://www.robertjsmithtx.com/index.php/2019/03/07/healthcare-a-new-beginning/
Part 2: https://www.robertjsmithtx.com/index.php/2019/11/14/va-hospital-update/
When I sit down to write about healthcare in Garland, it never ends up being a short blog entry. The reason is that there are so many pieces to the puzzle that it is hard to discuss one part without mentioning another.
As usual, this post does not represent an established position of the council, and I can only speak from my point of view. Also, certain things might be out of date the day after I finish this write-up. Everything is moving quickly in that area, and I may leave out certain details if negotiations are pending.
The Past
We've learned a few truths since 2017 when this discussion first began.
Our loss with the Baylor closure was a non-trauma center Emergency Room, and several hundred jobs.

Baylor was losing $30 million a year. Without a non-profit with deep pockets, a complete turnaround in the local economy, or a change in healthcare law at the national level, no company would be willing to run a full-service hospital in the Garland core.
There's been a great deal of discussion over the years, and what I continue to hear is that we're a city of a quarter million people without a hospital. That makes for a good one-liner, but it just isn't the full story. I've also heard recently that we're the only top 100 (by population) city without a hospital. That's incorrect too.
Look at the two pictures below. Where would you rather live if you needed medical care?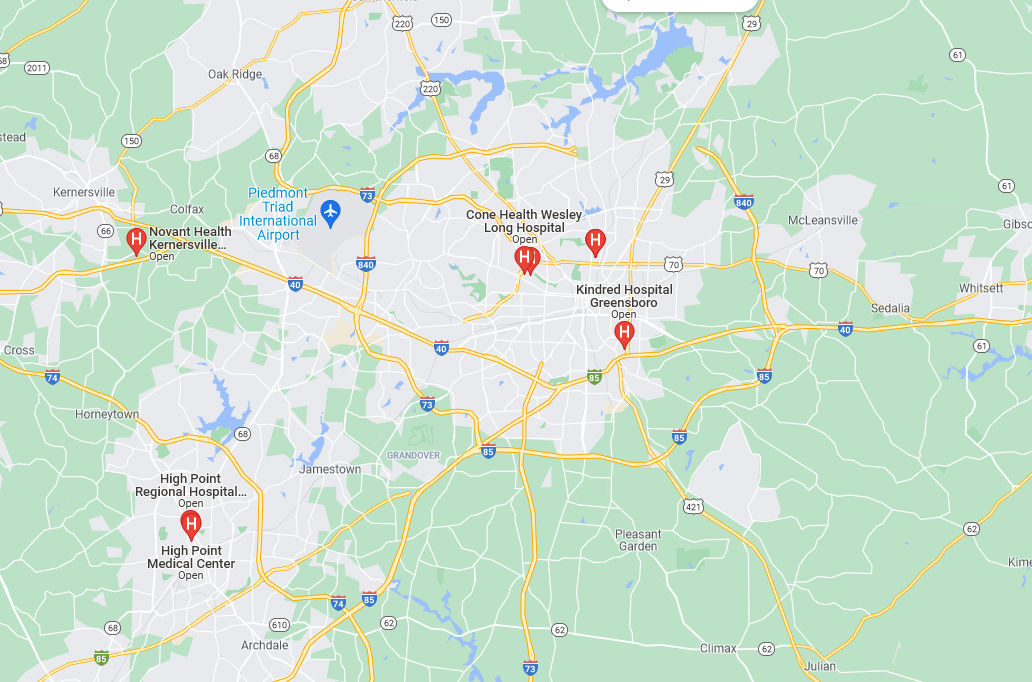 [A google search of the Greensboro, NC (290k pop) area vs Garland, TX (238k pop) with the term 'Hospital']
Setting all of that aside, the purpose of this blog isn't to make excuses or try to convince people that we don't need a hospital. I said to a constituent back in 2020 back when COVID was new to us,  "everyone wants one more hospital than they have right now". We still want that hospital. We want the fast access to emergency care. We don't want to be dependent on the cities around us to help carry our medical burdens. We want high paying, quality jobs. But we have to crack the basic problem of 'too much unfunded need'.
Our Own Hospital?
Some have suggested Garland should create a hospital district, collecting the taxes that we send to the Parkland system, then building and operating our own hospital.
Unfortunately, the numbers don't work.
The following numbers are my estimates, based on early cost analysis with inflation and higher construction costs in mind.
-Math Warning-
A new hospital, Baylor Garland-sized, would cost us $1.8 billion with ongoing operating losses exceeding $40m/year on top of PP&E. Our annual AV tax brings in around $140m/year. To build the facility on 30 year debt @ 3% (debt is cheaper as a municipality), assuming a final cost with interest of $2.8bn, we'd need to increase the tax rate to bring in an additional $93m/year. Add in the operating losses, and we would essentially need to double the city tax rate for every home and business (which we can't do due to constitutional limitations).
The Parkland system currently delivers more value to our city than what we pay into it. So there would be some amount over and above that tax revenue that we would have to come up with. The reason we're in the Parkland system to begin with is that it delivers a broad range of specialized care such as the level 1 trauma center, the burn unit, the hyperbaric chambers, etc. We would lose access to those services if we went our own way. Also, it would require a change in the state's constitution to allow for us to build our own hospital district. It is currently illegal for us to do so.
Since a hospital can't turn anyone away due to The Emergency Medical Treatment and Labor Act (EMTALA), we could also be treating people from outside of our community, on our dime, who never intend to pay their bill.
Attempting to do this one on our own would essentially bankrupt us.
Solving the Problem, A Different Way
Typically, a hospital will put down roots and act as the anchor for surrounding medical offices. This didn't work in our case. The anchor lost too much money to sustain itself, and the surrounding medical offices were so dated that many physicians decided to move their offices to the north. We needed a different path.
We eventually took the position that we needed an anchor that would be long term and self-sustaining with its funding coming from outside the city. The VA's acquisition of the old Baylor building was a win on multiple levels. The first is that it now serves veterans in North Texas. There are 30,000+ now within a 20-mile radius that require care. The second is that it is a semi-permanent anchor for medical offices. But that was just one piece of the puzzle.
The next piece was updated housing. Most of the homes in our city were built between the 1970's and 1990's. It's now 2022, and many homes and apartments are hitting the 50 year mark.
Doctors and hospital administrators need access to quality housing close to the facility. On-call requirements usually force doctors to be within a certain close range of the hospital. The Riverset development at Shiloh and Buckingham covered the single-family housing need. The Draper development at Ave B/Garland Ave, and phase 2 of Carriage Homes at N Garland/Beltline covers part of the higher-end 1–2-bedroom apartment needs.
In addition, the price to acquire, knock down and rebuild multifamily properties in the area has been enormously inflated for the past five years. It would be a poor use of taxpayer dollars to buy these 1960's properties. For instance, some units in that area which were valued at $40k per unit ten years ago are now priced at $120k each. A 60-year-old complex, which would cost $24 million to build today would cost us close to $20 million to acquire in its current condition. Purchasing while the market is at historic highs is a bad idea, and extremely wasteful. We must rely on new construction to apply market pressure to the area and allow for more organic improvements.
Next, we had to find a partner to demo and rebuild the 1960's 3-4 story office buildings surrounding the main anchor. JLL stepped up and brought forward a strong plan for the area. They purchased several old buildings, which were demolished in December. New construction plans are in the works. The area has been branded Valoris Health Park . It includes new 4 story class 'A' office space along the Shiloh and Walnut corridors which gives us a chance to compete for medical and office tenants.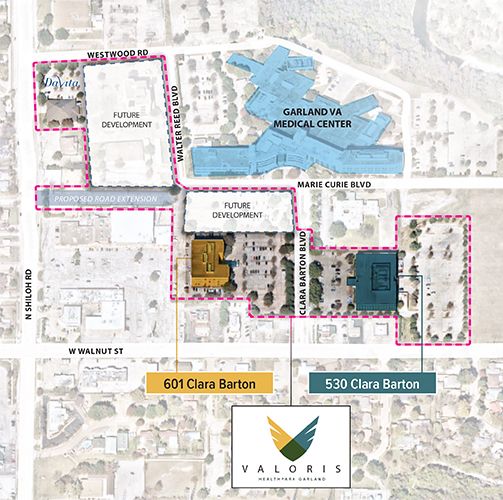 In a partnership with both JLL and the VA, the city commissioned a master plan for the area to assess infrastructure, economics, transit, walkability, traffic volumes, etc. For those who have had bad experiences with master plans (and I have), we insisted that the plan be realistic. It needed to use our economics as they are today, projections for population growth and decline, and nothing that required the statement "and then a miracle occurs". Here's the link to that plan: Garland Medical District Master Plan
The medical district plan provides a path forward for private acquisition of land and properties, branding, infrastructure, park land, flood plain management, retail area façade and parking improvement, and most importantly, a future location for a public, full-service hospital.
All of this work has the purpose of creating a destination for medical needs. "Medical tourism" isn't quite the right term to use here, but it's not far off the mark. We need this influx of money from outside of our borders in a realistic and sustained way to make the local economy ripe enough to support a hospital.
Unfunded Need
While we will see more outside money coming into the area, it does not fix the core societal issue of unfunded need. That's beyond the scope of a city to fix and more an issue for state and national leaders. What is in our power to do is to try and ensure that the amount of money coming into the area is enough to outpace the amount lost due to non-payment of medical bills. My goal has always been to ensure that I have given the area the best shot it can possibly have at attracting a full-service hospital and setting that entity up for success.
Final Thoughts
As a city, we've made a tremendous amount of progress in getting the area ready to try and support a new hospital. We have nearly $100m of money from outside of the city going into the Shiloh Rd corridor to fix the infrastructure. We built a medical TIF that encompasses the entire VA area to help self-support other infrastructure improvements in the area.
It's not enough just to say that we want a hospital within our borders. If we can't afford one as a city (and realistically, we can't) then we must make the area a place where a hospital can come in and be successful. That's hard to do when local government has zero control over our healthcare system. But we can't use that as an excuse not to do the things that we need to do to make it happen.
Due to term limits, I will be leaving office in May of 2023, so I will not be able to lead, guide, or participate in the next critical phase of this redevelopment project. I would encourage those that read this to stay informed on our progress and encourage your city leaders to continue the work that we've started. Many redevelopment projects like this take years or even decades just to begin. It is a credit to our city management and to your passionate involvement that we've been able to move as quickly as we have.
My thanks go out to our city management, our economic development team, the Mayor and Council, the citizens that serve on the TIF3 board, JLL, MVAH, the VA, and to the citizens that stay involved and push us to be better.
-RJS
Edits:
Added a link to the definition of a hospital district
Fixed Grammar/Spelling Mistakes/Word Choice