The future funding of the Garland Day Labor Center is being debated by the Garland City Council as a part of our annual budget process. This blog post covers the history, operations, financing, and future of the facility from my perspective. This does not represent an established position of the Council, and due to Open Meetings laws I cannot discuss this write-up with a quorum of the Council either directly or even indirectly through a 'walking quorum'. The sole purpose of this post is to be informational and generate feedback from the citizens of Garland prior to a vote. One additional disclaimer- I've put all of this information together in less than a week. That means I've had to make a few educated guesses on the numbers. I believe that I've captured a reasonably accurate picture of the current program, but numbers might shift on us if new information is provided.
I appreciate your engagement and welcome your feedback.
Quick Links
Background
Location and Hours
Operations
Direct Costs
Indirect Costs
Rules and Regulations
Images
Stats and Finances
Pros & Cons
Criticisms of the Current Implementation
General Comments
Public Hearing Input
The Current Question and Analysis
Conclusions and Moving Forward
Update
Final Vote
Background
The Day Labor Center (DLC) was opened in December of 2002 by the City of Garland (COG) to combat four problems:
Day laborers (independent contractors with trade and landscaping skills looking for daily work, typically paid in cash at the end of the day) were standing on street corners with signs advertising their abilities. Trucks were stopping to pick these workers up, causing traffic issues during morning rush hour.
Sometimes these workers would not be paid their daily wage and had no recourse.
Sometimes these workers would be dropped off at a job site, and not picked up again, leaving them stranded.
Language barriers created problems between people looking for work and those that believed they were being panhandled or assaulted. In some reported instances, workers would hop in the back of pickup trucks at common gathering sites even though the driver was just there to get gas.
The COG built the facility and manned it with a single employee in cooperation with the Texas Workforce Commission (TWC). Contractors and laborers are matched up at the facility on a daily basis.
Benefits of this facility are: Workers are given the security of being assured pay for the days' work, and a return trip to the facility. Contractors have a larger pool of talent in a single area and can pick up workers out of traffic.
Location and Hours
2007 Saturn Rd, Garland, TX 75041
Monday – Friday, 6:30am – 2pm
Saturday, 7am – 12pm
Operations
Workers sign up on a first come, first serve basis. Contractors arrive and pull from the list those workers with the skills needed for the day's work. Workers are typically provided transport to and from the job site.
Direct Costs
The original building cost was $250k, which was largely funded by the state. Annual recurring expenses include $82,000 for staff, plus additional incremental costs for utilities and building maintenance, TWC costs (funded by state tax dollars).
Indirect Costs
A few operating costs that are not traditionally broken out into budget line items are mowing/landscaping, Garland Police (Number of calls and time spent are usually higher where people congregate), additional nearby street usage and wear, and lack of AV tax on land improvements.
Rules and Regulations
All workers and DLC staff will be treated respectfully. Verbal abuse including profanity and / or physical abuse will not be tolerated.
Workers must sign-in to be considered for work assignments. Workers will be listed based on time of arrival.
Laborers must be signed-in by 9:30a.m. each day or they will not be allowed on property.
The workers' sign-in list will be used to assign workers unless a contractor requests a specific person.
Center staff will assign all workers to contractors.
Workers must remain behind the fence/barricade until called.
Laborers must leave their numbered ticket with DLC staff when the leave DLC property. Laborers may leave DLC property for 30 minutes and return once a day. If a laborer returns to the DLC after 30 minutes, they will be suspended from the DLC for the remainder of the day.
Workers will not approach contractors (including talking, waving, or attracting attention in any manner) until called. Workers will not solicit or approach contractors or visitors that come into the parking lot. Workers must have permission from staff before approaching a vehicle for any reason.
A worker who refuses a job offer will be required to sign-in again at the bottom of the list.
Workers should tell staff if a contractor is picking them up at the center.
Workers should carry their tools in a tool bag of case for safety and security reasons.
Workers are prohibited from loitering on the street and sidewalk. State law prohibits soliciting a job or a ride while standing in the roadway. Police will cite violators. The citations start at $103.
Possession of alcoholic beverages, weapons, or illegal drugs on DLC property is prohibited.
Anyone suspected to be under the influence of alcohol or drugs will be suspended.
All trash must be disposed of properly. Please help keep the facility clean.
The office phone is for staff use only.
Loud music or voices are not allowed.
Workers are prohibited from sleeping, playing games, and gambling on DLC property.
Workers are only allowed on DLC property during scheduled open hours.
DLC hours are Monday-Friday 6:30am to 2:00pm and Saturday 7am – 12pm.
Vehicles are not permitted to remain on DLC property after operating hours.
Any violation of the above rules may result in suspension from the DLC at discretion of staff.
Images
Off-Site Laborers Gathered Across the Street at the Gas Station

Stats and Costs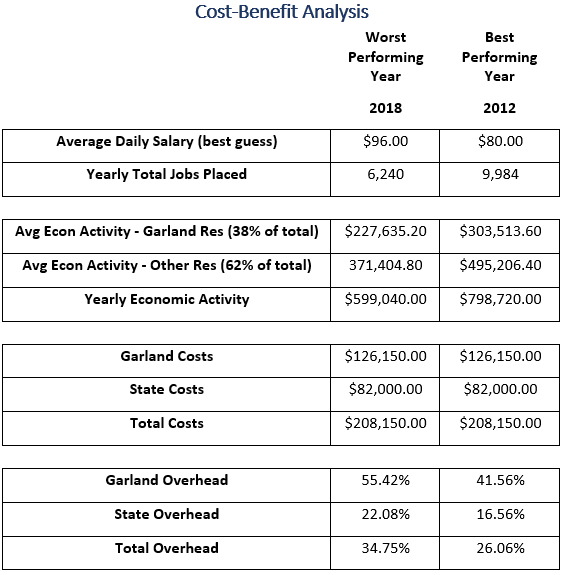 Pros and Cons
Based on testimony and discussion in council, I've listed the following pros and cons:
Pros
The DLC acts as a way for some members of the community to supplement their income on a more as-needed basis than other forms of steady employment.
For some in the community, particularly those with criminal records and lack of identifying documentation, these jobs act as a source of cash to pay for necessities.
The center acts as both a job and labor aggregator, which matches temporary/day labor with day jobs. This fills a niche that other mediums such as job posting sites have more difficulty in filling. The aggregation function is designed to fix the issue of day laborers standing out on street corners with signs, as was common practice in the late 1990's and early 2000's.
The DLC works to guarantee both payment and transport for laborers.
Access to employment is enhanced for laborers, making it somewhat easier to find and perform work.
The land where the center was built was unused, and difficult to develop due to size and shape. There was minimal AV tax impact in putting a city facility on the land.
Contractors working in the city have access to a centralized labor pool with a wider range of talents.
Cons
Center utilization has been on a steady decline since the end of the last recession, roughly proportional to the unemployment rate.
The location is adjacent to a residential area.
There has been an increase in crime in areas surrounding the center, specifically with loiterers across the street at the gas station, requiring significant police presence.
The price to state and local taxpayers per placement is significant – roughly 26% of salary in the center's best-performing year, and 35% in its worst.
Laborers that are suspended or banned from the DLC advertise for work across the street instead.
Day labor in that area is creating an ecosystem of crime and attracting homeless encampments.
There is a negative impact on surrounding businesses other than the gas station.
Criticisms of the Current Implementation
Poor location choice. The center is adjacent to a residential area.
Loitering across the street is not a crime, as the gas station chooses not to enforce it in most cases.
While the center could achieve a lower overhead with more overall volume, since 2008, the oldest year of stats on file, overhead has been ~26% at best.
No effort has been made by the city to promote the center and increase participation.
Until recently, plumbed bathrooms have not been accessible to laborers or contractors.
Suspensions and bans are sometimes arbitrary, will little oversight.
General Comments
This issue first came up in an October 2018 council meeting. At the time, the council member for district 5 (where the center is located) broached the topic of potentially closing the center. More research was called for, and then the matter was dropped. This year, as a part of the budget discussion the matter was brought up again, but this time as a financial decision that the council needed to make.
Other Concepts
Rewinding slightly, I began looking heavily at the issue in December of 2018. At the time, I was trying to view the DLC as a possible entry level pathway into continuing education. My thought was that we could use the DLC program to slowly introduce new concepts and skills, with the end goal of helping laborers move up and become their own bosses instead of being at the mercy of others. Or put simply, to offer a "hand up" instead of a "hand out".
The concept plan as I had it drawn up as of 1/16/2019 is below. The details are difficult to see here, but it was an attempt to vertically integrate the DLC into the TWC and a Makerspace, followed by classes at the Richland Annex and finally utilizing the Chamber of Commerce as a small business resource. The image below is the council equivalent of drawing a plan on a cocktail napkin, so please excuse the shorthand notes and incomplete nature of it.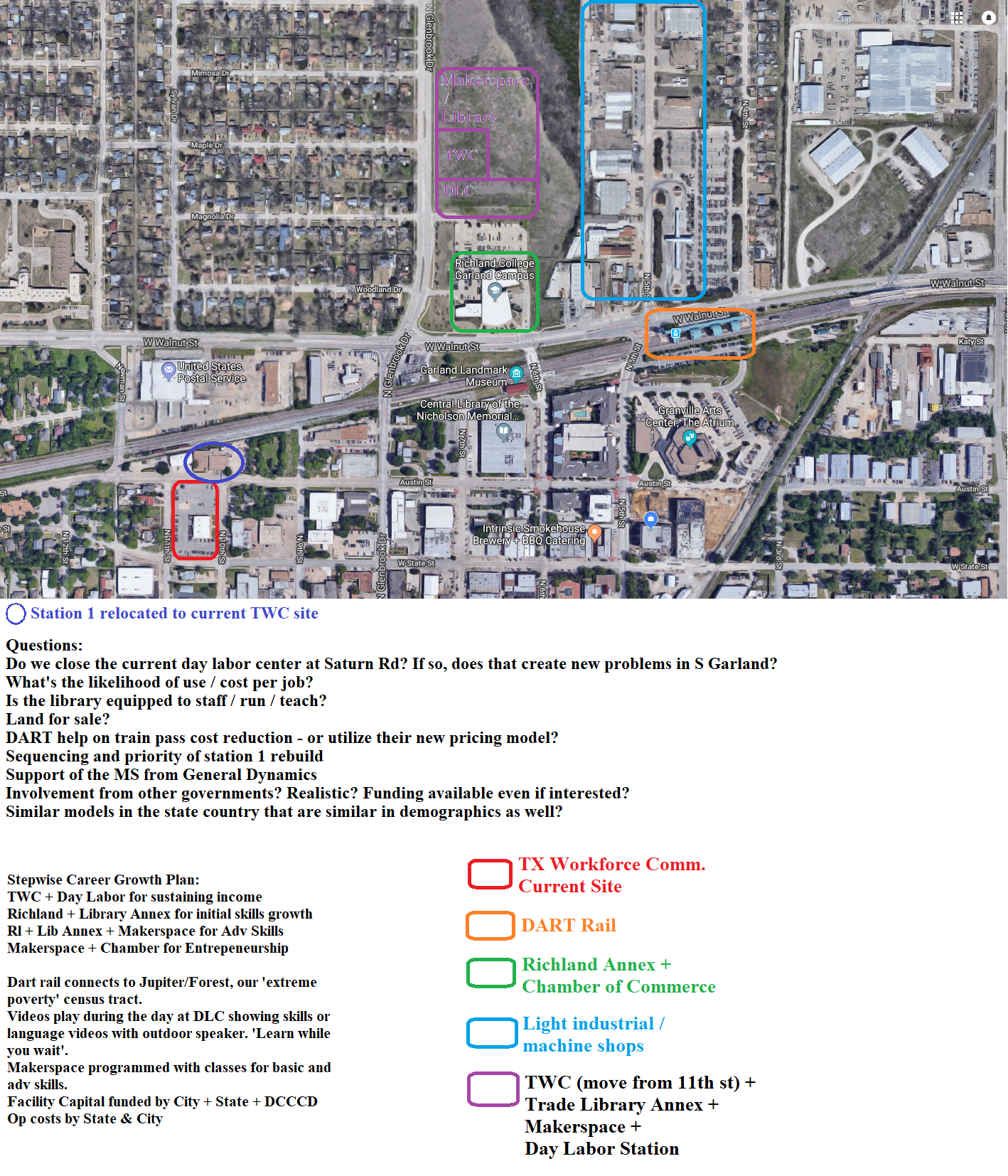 Unfortunately, due to the relatively small number of people using the DLC, the requirement of new capital costs, an untested Makerspace program (and a past history of the city not playing well with others), this concept was impractical. I felt I would need several hundred users per day to make it viable. It most likely would have been a waste of taxpayer dollars, and so I never worked to advance it.
Location
Day Labor Centers, much like homeless shelters, water treatment plants, mental health hospitals, and landfills are subject to "NIMBYism". NIMBY stands for "Not In My Back Yard". People by and large believe that these facilities should exist, but they do not want to live near them. This creates a challenge for decision-making bodies like our council. The residents have asked us to aggregate day labor in one area, but due to traffic, added crime (which is higher wherever people congregate), and the transient nature of the business, no one wants a center in their area. It's difficult from my perspective to ask another member of the council to take on a task or a facility that I would refuse to put in my own district, and so my concept plan was adjacent to a residential area in my own council district.
Economy
Temporary labor has historically been higher in lean times and lower during prosperous times. Because firms can afford to be less lean during a strong economy, more full-time employment is available, and less day labor is needed. We can even see this trend reflected in our own DLC numbers. Our best year on record is 2012, just after the height of the recession, as the construction market began to thaw locally. Our worst year so far is 2018, one of our strongest economic years in decades and the product of a long-running housing bubble in the metroplex. When considering the future of the center, I've picked the midpoint between those two years to try and judge the average effectiveness of the program.
Area Facilities
The only other Day Labor Center in the metroplex near Garland is the Plano center. It has a number of advantages over the Garland facility.
– Located next to mass transit – DART rail
– Located on a major freeway – US 75
– Not near a residential area
– In an area that demands more day labor
The Plano facility is well-promoted by their city, and processes nearly 10 times Garland's volume of workers each day.
Crime
The biggest complaint by far, and what I believe is the reason for the discussion around the DLC is the loitering and crime that occurs across the street. According to some, laborers that either are not selected by contractors, those that have been suspended or banned from the DLC, and homeless from area encampments gather at the gas station. They purchase meals, hang out, some panhandle, some deal drugs, some solicit prostitution, and there is other criminal mischief. When police arrive, the people scatter, and when the police leave, they come back. The station's owners walk a fine line in what they report and what they allow on their property. They know the law well enough to keep themselves from being targeted by law enforcement.
Residents of the area have stated that they simply do not feel safe around the DLC, and it has led to the decline of the businesses in the immediate area.
Effectiveness of Aggregation
The City cannot prevent people from seeking work on street corners. The Supreme Court has ruled in recent cases that there are limits on what the government can do to limit commercial speech, as it is a 1st amendment right. This means that there is no strict requirement for people to use the DLC to find work. While people do work from the DLC, they also congregate in other areas of the city to find work. Reliable statistical data is unavailable for calculating what percentage of day laborers use the DLC as a total of all temporary laborers.
Public Hearing Testimony Notes From 8/20/19
Public hearings are sometimes a very useful way to get a feel for the mood of the community, learn new things about a topic from the people that live close by to them, and get background on issues. This hearing was no different. When you see me furiously typing on my laptop during public comments, I'm taking notes while people are speaking so that I can read and reflect on the comments later on. I'm sharing the notes from this hearing because it may help give you a sense of the various points of view that were expressed.
B.R. – Resident of the Neighborhood
• Requested for closure or relocation.
• Early morning traffic complaints.
• People on either side of the road tap on the doors and windows and bother them.
• Unsightly.
• Amount of money spent to maintain it.
• Law enforcement issues.
• Group fight broke out in the presence of a family member.
• Homeless camp within the area.
J.O. – Resident of the Neighborhood
• Neighborhood doesn't like it.
• Why is it located where it is?
• Neighborhood vitality.
• Would you want one in your back yard?
L.L. –Employment Solutions Non-profit working with TWC
• Building was built with state money, with one state staff member.
• Originally built as a crime resolution.
• TWC is removing all state-owned facilities and losing the facility on 10th street.
• Roughly half of the users of the DLC identify as Garland residents.
• State will be a partner no matter what we decide.
• Some temp to perm success. Some self-development success.
• State satellite offices must be a standardized layout
• Correlation of economy and the temp labor market
• In July 2019, roughly 10 employed for the day, 5 from Garland
Question I asked: If we were to move and fund a new facility, would the state still be willing to partner by providing staff?
Answer: An employee would probably be funded by the state provided that they moved from an old facility to a new one, with uninterrupted employment.
Hon Jackie Feagin – former Council Member District 5
• Was partly responsible for the center being built in 2002.
• Supports keeping the center open.
• Believes that the station next door is the root cause of the issues.
• Believes we should step up enforcement at the gas station.
W.M. – Resident of the Neighborhood
• Lives within ½ mile of the DLC
• Doesn't believe in the effectiveness of the solution
• Draws in people from outside the city
• Encourages hangouts
• Security and safety issues – affects his family personally
S.H. – Contractor
• Sells clothing, brought in not on hangers, they hire day labors to put them on hangers (saves time and space)
• Has felt secure and has had no issues like he had in the past when working out of Oak Cliff
• People at the gas station next door cause the problems
G.C. – Long Time Contractor
• Keep the DLC open
• Contractor that looks for full-time employees there
• Uses the center fairly routinely and requires people at the gas station to use the center prior to hiring.
M.L. – Resident of the Neighborhood
• In 2008, they moved due to safety concerns around the DLC
• Drug use at the facility
• Prostitution, drug sales, sleeping
• Sleep and partying in the right of way
• Lack of police presence
• Two break-ins at her home
Question: Would we be better served if we put a full-time officer at the center during operating hours, or would we need to have it covered full time?
Answer: We would need to cover it 24×7, and we need to enforce loitering issues in the right of way.
W.Y.
• Forced to move his business from Garland due to criminal mischief associated with the DLC
• Believes that immigration enforcement should be at the forefront of our approach
M.P.
• Creates an environment where criminal mischief occurs
• Church moved due to those reasons
• Likes the people at the center
The Current Question and Analysis
The question of the DLC's future is being included in the budget process, so elimination of the program is being presented as an amendment to the budget. A vote for the amendment would defund the DLC, and a vote against the amendment would continue the program.
Program elimination via budget amendment is not uncommon with the Garland Council, and it is an appropriate avenue for making decisions. The council member proposing the amendment has repeatedly and publicly indicated his concerns with the current program for over a year, giving the council time to think about the issue, so this amendment was not a surprise or ill-timed. However, defunding of the facility is not in and of itself a policy decision. Likewise, we may choose to budget for the program but then end it at a later date.
I've broken the issue out into a few questions that I'll answer:
Does the DLC directly or indirectly cause an increase in crime?
Does the DLC create an ecosystem of homelessness?
Is the DLC cost-effective? What is the benefit to the taxpayer?
Is the center properly located?
Crime
Based on the police call-out numbers in the "Garland Day Labor Center: Annual Usage Report", on-premises crime is largely a non-issue. Because the call-out counts are associated with the center no matter what the location of the crime is, it is even harder to assume there is significant on-premises crime. There was light reporting of Marijuana use, but assaults, hard drugs, and theft have been very uncommon on the site.
Area crime is the primary public complaint and is centered around the gas station across the street. Complaints span all hours of the day, including those hours when the DLC is closed. The gas station has been reluctant to remove people from their property, as many are paying customers. As seen in the google street view image labeled Off-Site Laborers Gathered Across the Street at the Gas Station on page 6, we can see that there are many people loitering on the corner. People that are suspended/ banned from the center, or simply don't want to use the program will gather across the street. Those that do not find work are left idle. A submarket of drugs and prostitution has popped up around the area and is creating additional problems.
The hard question we have to ask is whether or not the DLC's presence is the sole cause of the rise in crime. If you recall, there were four original issues that the DLC was designed to combat. The main issue was people holding signs on the corner and looking for work. In areas where people congregated, there was a rise in crime, even when scattered across the city. City policy led to those sub-groups to gather in one location, and that rise in crime followed.
While the DLC hasn't brought all laborers into one parking lot, it was never assumed that there would be 100% participation in the center or that it would resolve all issues regarding laborers on street corners. The unanticipated piece was that a local business owner would enable criminal activity in order to benefit economically.
The crime rate was an issue before and is still an issue now. The only question is the density. I would stress that correlation does not equal causation. I do not believe that the DLC inherently promotes crime. I do believe that we are creating a concentration of people just like a DART park & ride (which, incidentally has a dedicated police force).
It is difficult for me to blame a legitimate enterprise for crime that happens next door. For example, we set up an auto repair shop (shop A) on one side of the road. Another repair shop (shop B) opens across the street staffed by fired employees of shop A. Shop B ends up being a 'chop shop'. Would we blame shop A for the actions of shop B? Or would we adopt a law enforcement strategy to handle shop B? Obviously we would tackle the criminal element and leave the legitimate business alone. Crime rates are higher around train stations, which are located next to residential areas. We have a jail/court complex in my district next to a residential area. Crime rates are higher in and around big box stores like Walmart- also around residential areas. There is no difference between those offerings and this one; we just haven't put the resources into policing it the way we would other facilities.
Homelessness
Many homeless seek temporary labor as a way to subsist without finding steady employment. This may encourage the homeless to camp nearer to areas where temporary labor is concentrated. We had a chance to hear from the TWC/Non-Profit representative that was extremely knowledgeable about usage and the people involved. Homeless participation has been historically minimal- usually less than 3 to 4 people at a time. There have been a few success stories of people finding permanent employment and a home. But there are also stories of people claiming to be 'urban campers', that make just enough money to eat and afford their vices.
With the current homeless numbers estimated in the city at roughly 400-500 people, it is impossible to lay the blame solely at the feet of the DLC. While there is an extremely light correlation between homelessness and the DLC, I would not expect 'access to employment' to be viewed as a negative. Earning honest money instead of being reliant on taxpayer welfare is traditionally viewed in a positive light. If the question is how many homeless are finding employment at the DLC, then I think the follow-up question would be "How can we get more of our homeless to sign up for work and be self-sustaining?", not fewer.
Cost-Effectiveness
I had assumed, and then had the assumption confirmed by the TWC-related non-profit that temporary labor need is lowest when the economy is healthy, and highest during recessions. Our numbers support the idea that temporary labor demand increased during the last part of the previous recession as the construction industry was thawing. I would expect our overhead numbers to track closely with employment rates.
In the DLC's best-performing year, our combined overhead for job placement was 28%. In our worst-performing year, the overhead was nearly 42%. Overhead costs are split roughly 60/40 with Garland assuming the higher proportion of cost. We know that with a greater amount of participation, overhead costs will drop. The overhead for this program at current utilization is steep. Normal 'head hunting' companies charge 10-15% for short term labor and 18-20% for long term skilled labor. In our best year, we were 8% over that. It should not surprise anyone that compared to its private-sector counterparts, the city's program is less cost-effective.
But cost-effectiveness can't just be measured in terms of job placement. After all, that was only one part of the overall mission, and even that was purely a state/TWC goal. Our city's goal was the physical aggregation of bodies, and a higher likelihood that the transaction between employer and employee would be completed. Simply put, the real mission of the center when you look at it very closely, is public safety.
If we take the total cost for Garland residents, it's about the amount that it would cost us to put one police officer on patrol to drive around and enforce a no-loitering or congregating rule (which in theory we can't do anyway based on recent Supreme Court rulings). The question becomes now, do we use the carrot or the stick? The carrot is the attractiveness of concentrated employers. The stick is punitive laws and their enforcement.
The biggest question for Garland taxpayers isn't "Is this a cost-effective way to place employees?". We know that it isn't and likely never will be able to compete with a similar private sector offering. The question is: "Is this a cost-effective way to keep people off of street corners, keep them out of traffic, and improve city-wide public safety?" Based on the stats of total registered laborers, the correlation with the economy (and our eventual recession), and the lack of a better alternative, I would say yes. But there is still a question of localized public safety and general quality of life in that area that has to be addressed.
Location
Is the center located in the right place? No. Unlike the more successful center in Plano, it isn't close enough to a freeway and to mass-transit. It is adjacent to a residential area and near a stop light. It is close to a wooded area, which could conceivably enable and provide concealment for idle hands for those that aren't hired. The best solution would be to move the center, but there's a complication.
The TWC initially funded construction of the building on city land, but the TWC is cutting back significantly on their satellite buildings. The TWC will not fund another building, and if we cancel our program for any length of time, we will likely lose their participation permanently. Just for basic employee security, vacation, and sick leave, we would have to hire a 2nd person to man the center using purely Garland money instead of the city/state mix. If we were to move the building to a better location, we would need to bring the new site up while the current site is still running. There is currently no funding source identified for a new building of this type.
The location could certainly be better, and if we intend to continue the program we have to step carefully.
Conclusions and Moving Forward
I have a difficult time blaming a legitimate enterprise for the poor conditions allowed by the next door neighbors, and laws being under-enforced by the city. While this business may continue to allow for brand and reputation-damaging activity to take place on their property, I don't believe that closing the DLC will relieve that problem. The use of that parking lot as a hangout is well established, and without a law enforcement strategy or intervention by their corporate office we aren't solving our crime problem.
To be clear, I don't believe that the city should be in the business of stopping people from getting work outside of the center. That would be the same as saying "you aren't allowed to get work unless you go through a government agency". But the city DOES have a responsibility to enforce our laws regarding public intoxication, illegal drugs, prostitution, and approaching cars in the middle of a busy roadway.
So far we have not dedicated significant law enforcement resources to combatting the problems in that area (apart from the gang unit reactivation this past January which has served the general area to the south). We have tools in our legislative toolkit to manage the rights of way in that area that haven't been tried yet. It also takes us a great deal of time and effort to clear homeless encampments. We've been ineffective so far at keeping public and private land clear.
People using drugs, engaging in prostitution, being homeless, and gambling are not going to suddenly stop because the DLC closes. We'll just be chasing the problem from one place to another.
The center is run by our parks department and in the past was considered a warehouse. This seems wholly inappropriate considering the circumstances of use and area crime. It also has zero to do with recreation.
Shutting down the program is a one-way street. Once we end it, we lose our second employee who is currently funded by the state. That raises the financial bar and prevents us from experimenting with a temporary closure. I don't think that is in the best interests of the city.
I would propose several actions prior to ending the program. While it will be difficult to accurately measure success, resident area feedback should be solicited, and center stats should be closely tracked.
Establish and enforce limited pedestrian zones in the rights of way.
Move the DLC under the civilian/non-sworn arm of the police department, which already supervises commercial transactions in the parking lot of the police department on Forest Ln in their barter zone.
Strategically use police observation towers from the DLC parking lot during 'off' hours during periods of high criminal activity.
Establish a temporary task force to enforce these zones and respond to ongoing criminal mischief. If it works, the task force should work seasonally each year to teach new laborers how to be compliant with our laws no matter the location.
Enact and use the police department's new process for removal of homeless camps near the center.
The TWC/NP mentioned that they were trying to add a security guard to the DLC. Hold them to it.
Follow up with the TWC on their new strategy of combining DLCs and TWC offices and encourage location of a center in Garland. District 8 has a few candidate locations, and other districts might be considered as well, but only with the blessing of that district's representative. I believe that the right place for a center like this is adjacent to a freeway or near a rail station. Let's prepare to move the facility out of the neighborhood with all deliberate speed. Economic Development bond money could in theory be used to establish a new facility in parallel with the existing one.
Encourage city management and Council to lobby their state representatives for a Garland TWC office to replace the aging facility that is being closed.
Engage the corporate office of the problem business. Give them an opportunity to protect their brand from the damage being done to them by the current situation, or to be a good partner with the community by increasing their site security.
Take steps to properly promote and encourage DLC use. Since idleness leads to problems, greater contractor activity can help eliminate that. Find out why contractors use or avoid the center, and then fix the problems associated with non-use.
Use the city's audit department to "secret shop" our facilities (in general, but specifically the DLC as well) to see the experience first-hand from our laborers' and contractors' perspectives.
One thing I think we can all agree on is that the location is sub-optimal, and the facility is under-performing. We have an opportunity to try and make this work more effectively in the way it was intended to. On what I believe is the cusp of an upcoming recession, I would hate to lose this valuable tool now. I encourage the council and staff to take the time to get this right.
We have one more public hearing coming up, and a last round of council deliberation. At this point I intend to vote to fund the center for another year's worth of operation. I'll keep my ears and my mind open for other points of view. This also does not stop us from choosing as a matter of policy (not budget) later in the year to make a change. We'll also need generally agreed upon metrics to judge the continued success of the facility.
-RJS
Update 8/27/19:
Public Hearing, 8/27/19
P.P.
• Registered against the DLC, but not testifying
D.P.
• Registered against the DLC, but not testifying
A.W.
• Fiduciary responsibility is spending the tax dollars in the wisest way possible that provides a taxpayer value.
• $200k annually, 17 people per day on a non-permanent, non-ongoing basis.
• Apprenticeships scholarship programs for full-time jobs.
S.B. – Workforce Solutions Greater Dallas
• Board voted Feb 21, 2001 to provide the DLC with cash and 1 staff member
• No more satellite buildings
Question: What is in a full service center?
– Training Programs
– Help for removing barriers to employment
– No DLC component
Council Decision, 8/27/19
I put forward an amendment to fund the program fully, with the condition that we move the facility before March 31, 2020. If the facility is not moved by that time, then the program will be de-funded. The council approved that amendment, 5-3 (Morris, Bookhout, LeMay in opposition, Nickerson absent). The opposing council members wanted to guarantee funding for the full 12 months for various reasons, including a longer period of time in which to move the center.
My comments on the issue revolved around the value of the program as a public safety measure and the inappropriateness of the current location. I felt that this amendment gave us a path forward that kept the program funded, but showed respect for the complaints from the residents of District 5.
The challenge before us now is finding a new location that does not have the same problems as the current location, and moving into that location.
The final budget vote will take place on Tuesday, September 3rd at 7pm.