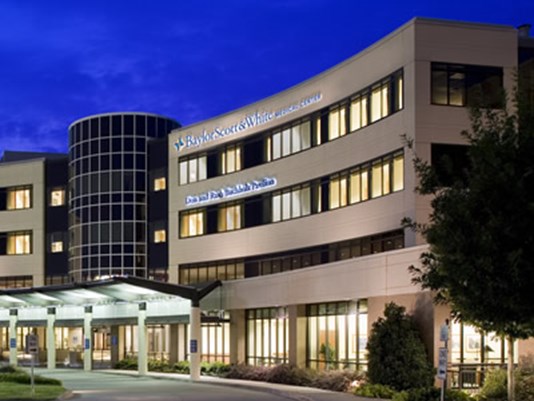 In 1981, your future councilman was born at Garland Memorial Hospital, later to be renamed Baylor Garland. The hospital has served my family through births, strokes, joint replacements, stints and bypasses, and has been there for us at the end of our journey as well. The announced closing, scheduled for Feb 28, 2018 has hit all of us hard.
A hospital (especially the emergency room) in my opinion is quite literally the most important building in the city. And while we have a number of hospitals on the outskirts of the city along the freeways, we are lacking one in our city's center. When life and death are measured in seconds, I think it puts our city center at a great disadvantage where emergency medicine is concerned. Those residents of our city that are the most vulnerable are now put in the most difficult position. This is not a situation that I'm willing to sit back and accept.
I'll try and address a number of questions that I've been sent via email, voice mail and social media.
1) Why is it closing?
2) Why couldn't they sell it?
3) Wasn't there anything the city could have done?
4) What healthcare options do we have now?
5) How do we revitalize the area?
Why is Baylor Garland Closing?
Baylor's stated reason for leaving is a lack of in-patient admissions. In other words, $.
The unofficial word is that the Baylor Garland location was losing about $20 million per year. This is due to a mix of empty hospital beds and a lack of paying customers. The payer mix is the other component. I've been told that a vast majority of the "self-paying" customers in reality were "no pay" customers. Over the year, the number of insured customers has dropped, leading to an unfavorable ratio of payers to non-payers. Cuts in hospital reimbursement for Medicare/Medicaid patients have also taken their toll. All of these losses combined made it impossible for Baylor Garland to remain in business.
Why Couldn't They Sell It?
The biggest reason they couldn't sell the hospital is because anyone buying it would have the exact same problems. Potential buyers looked at other various hospital models to try and make up for the losses, but ultimately none of them believed that they could make it work financially.
Wasn't There Anything the City Could Have Done?
For this sale, no. Baylor is a private business and the main tool that the city has is incentives. Our incentives wouldn't have even made a dent in their deficit. There are additional considerations moving forward that are much more subtle and long-range, and I'll go into those options below. In regards to incentivizing a new owner, the city was willing to dig deep and make things work. I personally looked at 100% tax rebates, electricity at cost, additional commitments on the Wilbow development to the north (more on that later in the post), moving up street replacement timelines, etc, etc. It just wouldn't be enough.
What Healthcare Options Do We Have Now?
There are a number of options for healthcare in a 12-mile radius:
– 71 Urgent care centers
– 48 Ambulatory surgery centers
– 21 Hospitals
– 11 Freestanding ERs
The closest full hospital options from District 8 are Methodist Richardson and Medical City Dallas. BS&W White Rock, BS&W Plano, Medical City Plano, and Presbyterian Dallas are accessible but further out. The biggest issue is that seconds count in emergency medicine, and now we have to travel further to get treatment.
Here's a (very) rough outline of the city with hospitals noted: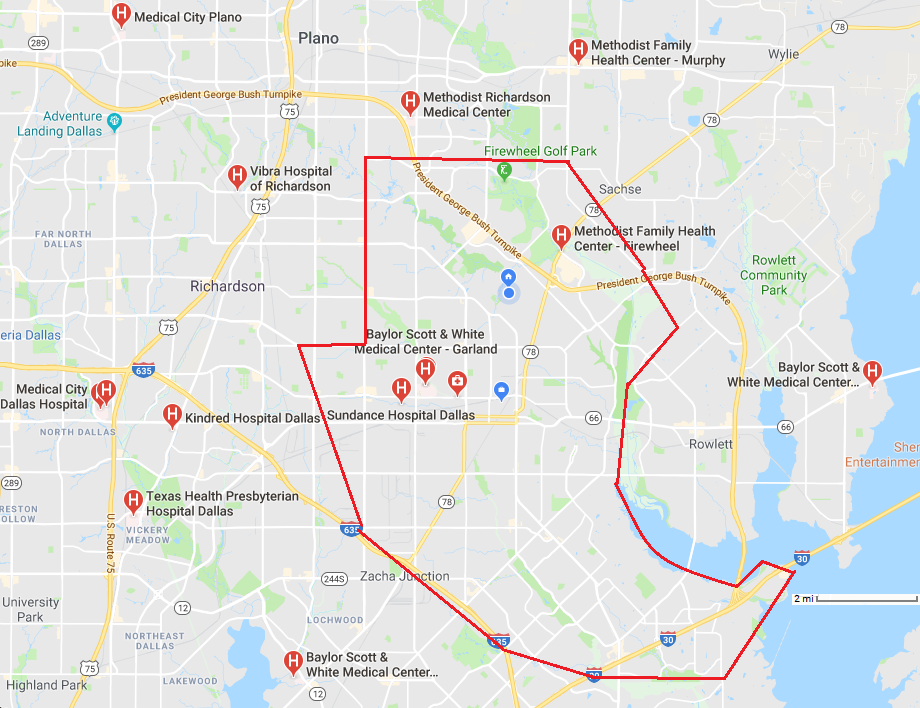 I've also engaged DART to attempt to establish express routes from the Shiloh Rd area up to Methodist Richardson, and out of West Garland over to Medical City of Dallas. We have to ensure that ALL of our citizens have a way to get medical attention.
How Do We Revitalize the Area?
The city has been working to fix the payer mix and improve the area visually and economically for a few years now. It is unfortunate that Baylor moved out prior to completion of a number of these efforts.
a) Wilbow residential development – Approved in 2016, there is a new residential development at the southwest corner of Buckingham and Shiloh road that should break ground in 2018. This set of ~550 homes is set to sell in the mid 200 – 300k range. This type of housing would bring in a mix of insured residents and provide a high end community for doctors to live in.
A requirement for many doctors is that they must live within 15-20 minutes of the hospital due to their on-call response time commitments. Based on their salary and living requirements, this type of development would work well and keep them close to the hospital.
b) TIF – The city is working on a 20 year TIF district that encompasses the medical center and supporting businesses around it. If drawn and used correctly, this tool can be used to correct the downward economic trajectory of the area and establish a stronger foundation for future medical facilities. If used incorrectly, it's simply another form of legalized debt instrument that the city will be saddled with. The goal will be to create an appropriately-drawn TIF where all businesses and residents within the TIF boundary are receiving the benefits. TIFs are open to abuse by well-meaning politicians, so as we move forward in this process I will come back to the public repeatedly to discuss our plans and the motivations behind them. It's my hope that you can all bring your points of view and make sure that we are using money appropriately, avoiding gentrification, and keeping the TIF boundaries reasonable. In short, hold us accountable and if you see something you don't like, speak up.
Another *very* rough, imprecise, and conceptual map of a possible TIF boundary for the area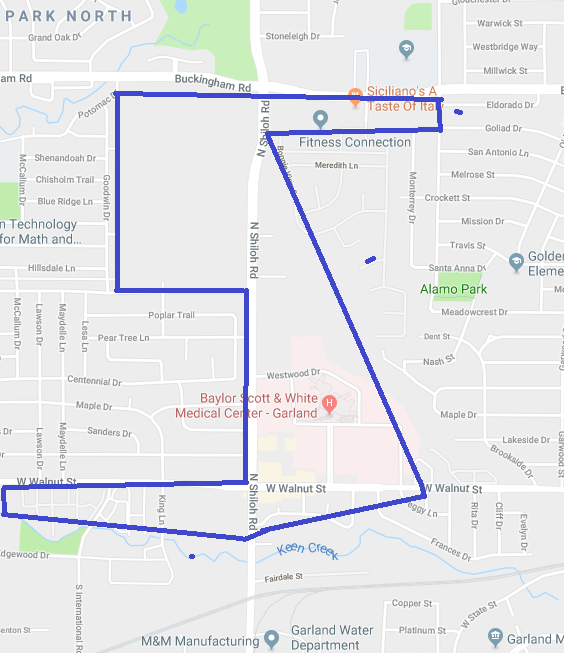 c) Medical District – from the planning and zoning perspective, the Baylor area is mostly built-out. I anticipate very few zoning changes, but a master plan for the district would be helpful in guiding future development and traffic needs. It will also signal to developers what our needs are. A common style, color and theme for public infrastructure will strengthen the identity of the area as well, which helps bring in additional business.
d) Lighting Improvements – GP&L is continuing its northward trek in replacing all street lights. This project will reach the Baylor area in 2019.
e) Streets – Arterial repair of Shiloh road is key for the general area. While major arterial pavement floating and reconstruction is not in the 2018 plan, it is my goal to prioritize it in 2019 in conjunction with the street light and bridge improvements.
Conclusions
By all accounts, we've lost Baylor. But the need for a strong E.R. and supporting in-patient services still exists. Your city council isn't going down without a fight. And should the building sit empty for a period of time, the city is committed to bringing medical services into the Walnut/Shiloh area. The Wilbow development, bridge upgrades and repairs, and a commitment to a strong infrastructure will establish an environment in which a hospital wants to do business.
P.S. If you're a member of the US Congress and reading this, if you could work on that whole 'healthcare reform' thing and get it right this time, that'd just be *awesome*. We're suffering largely due to this oddly-regulated and dysfunctional system that you've all created.
Stories:
Dallas Morning News
WFAA
CBS
Beckers